Cultivate Conference 2019 has sprouted!
Save the dates: November 6th to the 10th cultivate will be at Camp Obadiah!
A seventy-five acre rural getaway located four hours north of Sydney on the beautiful mid-north coast of New South Wales, Australia. With direct access to the Pacific Highway midway between the major regional centers of Taree and Port Macquarie.
Listen to Rod Bailey's interview on FaithFM. Discussing how Cultivate started and the Land Sabbatical:
Cultivate Conference 2018 Speakers
John & Pam Dysinger - Keynote Speakers
John and Pam have had the amazing privilege of raising their family of five children on Bountiful Blessings Farm in Tennessee, USA. For the past 20 years their family has worked together growing organic produce and supplying their Community Supported Agriculture, Farmer's Markets, Restaurants, and wholesale accounts.
Although they love the challenges and rewards of growing healthy food, their passion is encouraging others to experience the blessings of an agrarian life. Having shared their experience in the Market Gardening stream last year, John and Pam are returning to Cultivate as our keynote speakers.
John and Pam have been involved with the Adventist Agricultural Association (AdAgrA) since it's germination.
Jeremy Price - Sustainable Orcharding
Many families dream of harvesting delicious tree ripened fruit from their very own trees, and Jeremy is coming to help you make it happen. He will show you how some careful planning and better understanding of plant and soil dynamics will help your home orchard reach its potential.
Jeremy is a 4th generation fruit grower from the Perth Hills region in Western Australia. With 23 years experience in orchards, and an industry leader in IPM (Integrated Pest Management), he is passionate about growing beautiful fruit for all to enjoy. Currently living in Manjimup WA with his wife Rochelle and three girls, he has been managing an organic apple orchard for the last three years. He is passionate about mission, and longs to see all God's people reaping the rewards of their own food garden.
The orcharding stream will give you simple, practical advice you can apply so you can harvest delicious, nutrient dense fruit that will have the family smiling and the storehouse overflowing.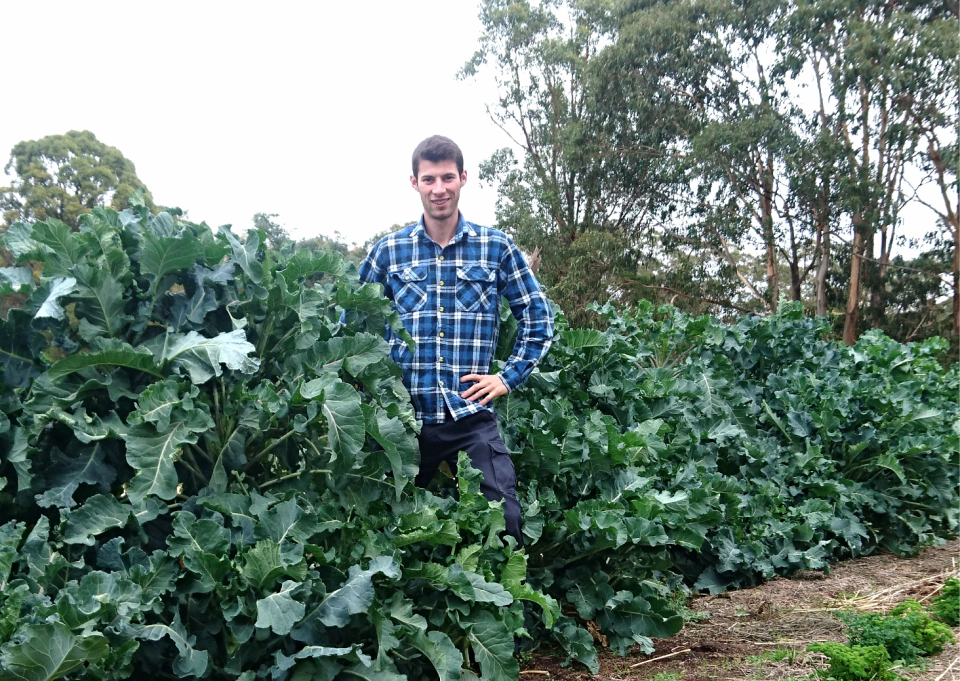 Ian Mot - Gardener's Soil Health
Ian comes from Victoria where he is studying his Master's degree in crop production systems. On the side he has been working for the last 3 years on converting his parents land into a farm. "The greatest blessing of working with the soil is watching it improve, and how we change for the better with it." Ian's passion is for soil health and how a deeper understanding can help gardeners and farmers alike reach consistent quality, resistance to disease and yield that makes growing worthwhile, profitable and satisfying.
The Gardener's Soil Health course will introduce why gardeners should take their soil's health seriously. As soil health is the key to growing quality food and managing plant disease, this course aims to explain soil health, how it can be assessed by anyone in a soil pit, and how to keep it healthy. The course will conclude with practical demonstrations showing how any soil can be restored to long term nutrient dense food production.
Ben & Jana Meldt - Gardener's Soil Health & Natural Remedies
Ben & Jana are experienced Holistic Health Educators and Coaches. They have run community health programs from their local church in Brisbane for several years. At Cultivate Jana is presenting some of her excellent Natural Remedies workshops:
Your First Aid Kit in your Backyard & Garden
Your First Aid Kit in your Kitchen Cupboard
Poultices, Concoctions, and Applications
Ben's passion is natural living - cooperating with God's plan of restoration and redemption - an important part of which is growing your own quality food and medicine whether you live in the Burbs or the Bush. He is an avid backyard organic gardener who admits he has often gone overboard with popular organic growing fads.
Ben has taken up the AdAgrA challenge of having a more Bible-based and rational approach to gardening and soil science, and is excited about being part of this revival in seeking God's wisdom for nutrient dense food growing. He will co-present the Gardener's Soil Health stream with Ian Mot.
Rod & Desley Bailey - Market Gardening
Rod, Desley, Hannah, Ella & Jack have been cultivating The Eastward Garden - about 1.5 acres of the Eastward property in Rollands Plains (NSW) - for the last 3 years. Growing up to 40 different crops at any one time, their non-certified organic garden supplies health conscious customers looking for fantastic super fresh produce from Kempsey to Taree through a weekly farmer's market and home deliveries.
The 2018 Market Gardening stream will be conducted in The Eastward Garden, about 1 hours drive from the Cultivate venue. Everyone will have a hand's-on, practical experience as Rod and the crew illustrate and explain their production systems. Planning, crops, varieties, bed preparation, seeding, transplanting, cultivation, mulching, trellising, protected culture, tools, irrigation, marketing, sales, etc - all will be revealed...
2017 Conference Report
Cultivate 2017 was a wonderful experience!
Conference Audios
All meetings and most seminar sessions were video or audio recorded. The audios have been edited, and are now available from our website!
Subscribe to Cultivate News
Cultivate Conference Venue: Yarrahapinni Youth Centre NSW
Seventy-five acres of rainforest and bushland situated at Grassy Head, half way between Sydney and Brisbane. With private access to the beach there is no excuse not to take long walks along the beach or on the boardwalk through the rainforest. For those who enjoy photography there is an abundance of bird and wildlife.